On April 14th, Microsoft announced the acquisition of Datazen Software. Datazen is positioned as an on-premises mobile BI solution. Microsoft sees it as a complement to Power BI, its cloud-based business analytics solution.
In a blog post from Microsoft, Kamal Hathi announced that SQL Server Enterprise Edition customers with version 2008 or later and Software Assurance can download the Datazen Server software at no additional cost.
There are some fantastic features in Datazen that round out Microsoft's mobile BI story, and if you're a Microsoft SQL Server customer, here are five compelling reasons try it now:
 True Mobile BI
Datazen provides feature parity on all supported platforms: Windows, iOS, Android, and modern browsers. Dashboards scale for almost any form factor, so users just build one version of a dashboard and it works on giant screens and iPhones alike. This is one area where Datazen shines, providing true support for phones in addition to tablets.
The Datazen Viewer app is optimized for touch gestures, providing easy and intuitive interaction for mobile users.

Client-side caching enables users to interact with dashboards without an internet connection, viewing the data that was available the last time they were able to connect. This is great for reviewing numbers on the plane or in the car before heading to a meeting.

Datazen allows for server-side caching of data sets with the ability to configure data refresh intervals, similar to processing a Power Pivot model in Power BI or refreshing data extracts in Tableau. This delivers the best user experience with quick dashboard load times when real-time data is not needed. It also allows data to be queried during non-peak hours so as not to impede other operations in the source systems.

When dealing with large data sets, Datazen can be set to load only the data required to display the current dashboard view and then reload from the server based upon user interactions, again ensuring a good user experience with the fastest possible load times for dashboards.
Mobile BI with Good Maps  
Datazen comes with 70 maps that cover major world countries and regions. Values are easily mapped to locations by the name of the region/country/state. No longitude and latitude, or other spatial data is required to use these maps.

Users can also create custom maps using ESRI shapefiles. Custom maps can be used to show custom geographical regions for sales or headcount, but they can also be used to show building floor plans, airplane seating, public transit routes, and more.

Once the map shapes are chosen, users can choose to make a gradient heat map, range stop heat map or a bubble map.
 Comments and Updates in Activity Streams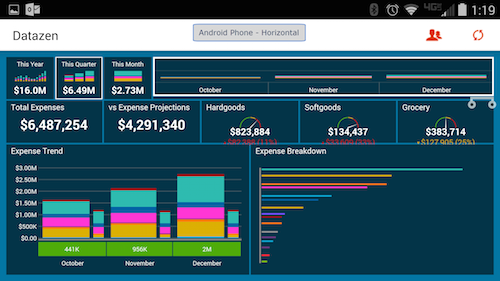 An activity stream for each KPI and dashboard shows important events such as KPI or dashboard creation and updates.
The real value is in the ability to share user comments, which are ordered chronologically and contain contextual information, such as the value of the KPI at the time the comment was submitted. Dashboard users can provide their own analysis and context with the dashboard and share it with others.
 Straightforward Integration into Your Current Environment
Datazen can use Active Directory, ADFS, or an external mode of authentication. Although it provides a default authentication mode that stores and validates user passwords within Datazen, you can easily use the authentication mechanism that is standard in your organization.

It supports live connections to your cloud and enterprise data sources, including SQL Server, SSAS, SQL Azure, SharePoint lists. It also allows connections to generic ODBC sources and Excel documents.

Dashboards and KPIs can be embedded into SharePoint or custom web applications through an iframe. There is no need to rebuild the same data viz or republish it elsewhere in order to access it along with other information in your other enterprise applications.

Datazen allows implementation of custom branding to match your organization's standards.
 Data Security Throughout the Stack
Data is encrypted at rest when stored in the Datazen Enterprise Server Repository.
Data is encrypted for transit to Datazen Enterprise Server client devices. Devices communicate with Datazen Server through SSL.

Data is encrypted for transit between Datazen Enterprise Server Core Service and other Datazen back-end services.

Data and user credentials are encrypted on each device.

Application PIN locks are supported in all mobile clients.

The Datazen control panel allows you to create granular permissions controls for dashboards and data views.
If you're interested in learning more, we can help!
At 3Cloud, we're excited about the acquisition of Datazen and the new capabilities it provides SQL Server customers. We have experience with Datazen and can help you install it, create proof of concepts and answer any questions. Reach out to us to get started today.