In what's become an annual tradition, BlueGranite team members across the nation recently spent a summer workday volunteering with a nonprofit organization of choice.  It's our company's third year sponsoring a "Day of Service", where we encourage our team to give back to their respective communities. The excitement surrounding this year's series of community collaborations has us all already looking forward to 2020! We are truly grateful for these opportunities for impact. Read on to learn about some of the organizations we worked with in 2019, and how we were able to help out.


(Back row: Left to right) Austin Goodrich, Justin Bahr, Zach Conroe, Matthew Mace, Carrie Renfrow, Rosana VanVleet,  Eric Wozniak,  Mike Depoian,  Erik Roll (Front row: Left to right) Sawyer Nyquist, Kevin Jackson, Robert Hutchinson, Jon Trapane, and Dan Myers in Michigan
Big Brothers Big Sisters
Most of BlueGranite's employees work remotely, but we gathered in teams in our major U.S. hubs to volunteer. This year near our Michigan headquarters, area team members chose to spend the day volunteering at Kalamazoo County-based Big Brothers Big Sisters .
Founded in 1958, the national organization is based on the belief that inherent in every child is the ability to succeed and thrive in life. Big Brothers Big Sisters makes meaningful, monitored matches between adult volunteers and children, from 6 to 18, to promote positive friendships that have a direct and lasting effect on the lives of young people.
Fourteen BlueGranite team members joined forces to re-landscape the BBBS headquarters –mowing, weeding, trimming trees, and removing brush and poison ivy, making the grounds more inviting for the organization's activities. The team also freshened up the main conference room with a new coat of paint. We were so glad to be a part of this project and hope to partner with Big Brothers Big Sisters again in the future.
Left to right: Robert Hutchinson, Eric Wozniak, and Matthew Mace, in Kalamazoo, MIchigan.
Keep Indianapolis Beautiful
Just across Michigan's border, our Indiana colleagues focused on community cleanup. BlueGranite's Indianapolis-based group participated in a Keep Indianapolis Beautiful event to spruce up city public spaces.
The team spent the day on the city's east side, in Grace Tuxedo, manually picking up manageable litter, while staging large, bulk items for city refuse removal. The mayor even made an appearance to thank all the volunteers for their efforts, reiterating how much the clean-up impacts area residents.
Left to right: Larry Baker, Katy Ghormley , and Emily Depasse, in Indianapolis.
Food Bank of the Rockies
BlueGranite's Colorado team member, Andy Lathrop, spent his Day of Service packaging meals to be distributed at the local Boys and Girls Clubs in Denver, as part of the Kids Cafe program. He worked at the Food Bank of the Rockies distribution center, which provides, on average, 1,000,000 hot meals per week between after school and summer programs, community kitchens, and Kids Cafe sites. The distribution center also offers nutritionally balanced shelf-stable meals to areas where it's not possible to distribute hot meals.
Food bank volunteers and Andy Lathrop in Colorado.
Griffin Middle School
BlueGranite's Georgia team spent its Day of Service in Atlanta,  sprucing up Griffin Middle School.  One of our team members even brought his son along to help repaint the sixth-grade hallway, in preparation for the start of a new school year! Our team was given a warm welcome and was so appreciated by the school. Go Wildcats!
Second Harvest Food Bank
In North Carolina, Melissa Coates, Angela Henry, Jerry Lukomskiy, Terry Crist, and Colby Ford returned for BlueGranite's second year volunteering at the Second Harvest Food Bank of Metrolina in Charlotte. The team spent the day sorting and organizing donations from Walmart. The local stores donate all returns or nonselling items, and Second Harvest Food Bank distributes these items across their multiple pick up locations.
For more than 35 years, Feeding America, Second Harvest's parent organization, has responded to the nation's hunger crisis by providing food to people in need through a nationwide food bank network. John van Hengel started the nation's first food bank in Phoenix, Ariz., in the late 1960s,  distributing 275,000 pounds of food to people in need within the first year. Second Harvest Food Banks were then developed in 1979 to continue alleviating hunger. There are now 200 Second Harvest Food Banks across the country, feeding 46 million people.
First photo (Left to right): Terry Crist, Colby Ford, Jerry Lukomskiy. Second photo (Left to right): Melissa Coates, Angela Henry, Jerry Lukomskiy, Terry Crist, and Colby Ford, in North Carolina
Camp Barakel
Our Charlotte team was not the only group that chose to revisit its charity from last year. Jim Bennett spent his Day of Service working with Camp Barakel  – a summer camp located in Northern Michigan. Jim has been volunteering for the camp for many years. This year, he spent his time painting the home of a staff member, doing electrical work, installing and configuring new uninterrupted power suppliers for the camp's server room, troubleshooting technical issues with the camp store's POS system (leave it to a BlueGranite employee!) and helping with the accounting process for the camp store!

Jim Bennet working at Camp Barakel in Fairview, Michigan
Racine County Food Bank
BlueGranite Account Lead Gary Lock, and his family, also spent a day volunteering at a Wisconsin food pantry. Racine County Food Bank in Racine has been around for over 30 years and partners with the United Way to supply the local emergency food network with more than 90,000 pounds of food every month. Gary and his family had a great time volunteering and were happy to give to this cause!
Gary Lock and his family sorting food at Racine County Food Bank, in Wisconsin.
Habitat For Humanity
Habitat for Humanity, a global nonprofit housing organization working in local communities across all 50 U.S. states and approximately 70 countries, is also close to the hearts of many BlueGranite team members. Our Ohio-based colleagues spent the day hard at work painting, siding, and renovating for the organization; as did team members based in Massachusetts and Minnesota.
Habitat works towards its vision of "A world where everyone has a decent place to live" by building strength, stability, and self-reliance in partnership with families in need of affordable housing. Habitat homeowners actually help to build their homes, alongside volunteers, and are given the opportunity to have affordable mortgage payments. This work is always rewarding, and our team was grateful to have a role in furthering this mission.
Top left photo: Jason Brugger, and Merrill Aldrich, in Minnesota.Top middle photo: Paul Poco, Chris Vo, in Massachusetts. Top right photo: Paul Poco
Bottom left photo: Chris Umbaugh and, Lindsay Pinchot. Bottom right photo: Josh Crittenden, Lindsay Pinchot, and Chris Umbaugh, in Ohio.
Orland Grassland Volunteers Group
In Illinois, David Barnhart, Eric Kieft, and Josh Roll spent their Day of Service removing invasive plant species, and seeding indigenous plants, at Orland Grassland. The 1,000-acre site, in the middle of Chicago's southwest suburbs, is home to a number of protected bird and plant species. While the land is part of the Forest Preserves of Cook County, volunteer effort is key to maintaining its Land and Water Preserve status. Our Chicagoland team encountered a wide variety of plant, bird, and insect life that day. Team members were happy to do their part in preserving this beautiful space!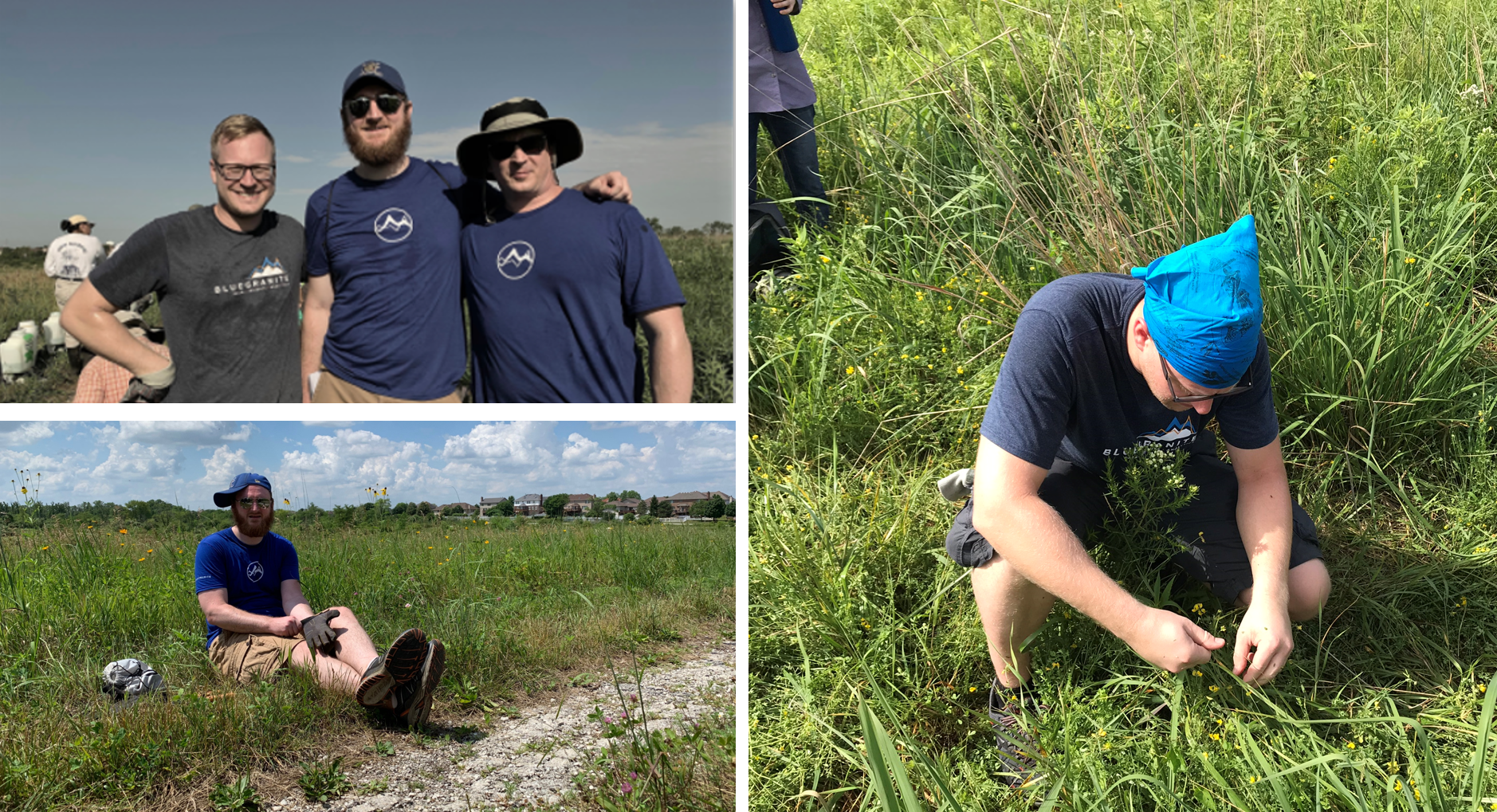 Top left photo: David Barnhart, Eric Kieft, Josh Roll, in Illinois.
Loaves and Fishes Food Pantry
As I was not able to make it to our Kalamazoo Day of Service, I supplemented with my own day volunteering at Kalamazoo Loaves and Fishes, a local food bank. In the early 1980s, a group of residents here recognized their neighbors were struggling to put food on the table. They founded Loaves and Fishes, never imaging how profoundly it would someday impact the community. Their efforts have grown into an organization that today distributes food to nearly 80 sites countywide and provides an average of 700 people daily with groceries.
BlueGranite has worked with Loaves and Fishes in the past; I was excited to continue the tradition, working with the nonprofit's long-time volunteer group, The Pasta Pals. We sorted produce, cleaned the warehouse, and boxed food for distribution across KLF's network food pantries.
Left photo: The Pasta Pals volunteers of Kalamazoo Loaves and Fishes. Right photo: Jessica Diekema with The Pasta Pals, in Michigan.
Getting inspired?
We are too! That's why we set aside time every summer to work with our local communities to give back. If you're looking for ways to give back with your own Day of Service, check out the government's National Day of Service and Remembrance website for upcoming opportunities across the nation.